.

Have feedback for us?
Call us at (254) 728-3082 , we'd love to hear from you.
What is Extreme Cowboy Race™?
The Extreme Cowboy Race™ was originally created by Craig Cameron along with Ryan Dohrn of HorseCity.com. Craig Cameron has designed and hosted five races at his Double Horn Ranch in Bluff Dale, Texas, since 2005.
HorseCity.com and Craig Cameron decided to name the event the Extreme Cowboy Race™ to challenge typical reality TV shows with an infusion of horseback riding thrills. Each season Craig Cameron assembles an impressive roster of competitors from around the country who compete for the title of Extreme Cowboy Race™ Champion.
The Extreme Cowboy Race™ spans fifteen 30-minute episodes featuring horse and rider teams as they complete the various rounds of the race course. The Extreme Cowboy Race™ airs on RFD-TV and is also available on HorseCity.com for those who do not get RFD-TV.
DVD's of the recent shows are also available for sale through HorseCity.com and Craig Cameron Enterprises.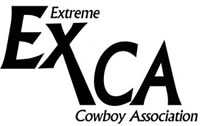 Visit the Extreme Cowboy Association Website
for more information.