Testimonials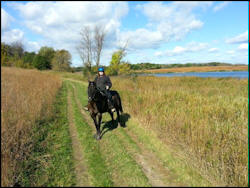 Hello Craig and Dalene,
I wanted to drop you a note to say thank you again for the great experience at your clinic this June. While I don"t have the promised video of me loping Jetson yet, I can tell you we have been working at it. Best of all, I am not afraid to lope him and with the increased confidence and direction from the clinic, we"ve been working hard all summer and are really trusting each other now. We love the patterns DVD"s!!
Dana
---
R. Harris
Dear Mr. Cameron and Mr. Steagall:
As an ex-patriot Kentuckian turned Texas citizen and wanna-be horseman I really enjoy your programs on RFD TV. Have not ridden much since leaving the Bluegrass State decades ago and never considered myself much of a rider anyway but love equestrian events and at heart am a horseman. I am a retired Special Forces soldier who served many years in the "Forces" as we called them and deeply appreciate your ride for Special Forces soldiers, their widows and orphans and of course the wounded troopers. As a disabled Special Forces veteran most blessed to have all my limbs I thank you very much for your ride for the Special Operations troopers. Many of us for years have talked about an SF veterans trail ride and as you know equine therapy is being employed to help many combat veterans with PTSD and physical issues perhaps one of these years before we get much older we will have that veterans ride. I have told as many fellow SF vets as possible what you fellows have done for our brothers and their families. Thank Y'ALL!
Sincerely,
R. Harris
---
Vance Mason, Fire Engineer, Dixon Fire Department
Dear Craig, The clinic you did in Cottonwood on June 3-8 of this year was one of the most enjoyable and learning experiences with the horse I have ever had. Your knowledge and teaching goes above anything else. I came away a much better rider and will always use what I learned when riding. I want to also say a very heartfelt THANK YOU again for showing my wife Carla, a better way to ride. She came away with so much more than expected, and improved to the point she is not scared to ride in a faster lope now, and feels much more confident in her ability to ride and understand her horse. We both came home telling everyone about you and the clinic and how you and Zane helped us. We plan on coming back again to the next clinic in Cottonwood, and look forward to coming to your Texas ranch sometime in the future. Thank You again for making us better horse riders.
---
Jim Sharp, Stephenville, Texas - Rodeo Legend
"I"ve had a horse since I was a little kid, but what I did for twenty years has nothing at all to do with riding horses. Still, I thought that would be my next hobby""riding horses instead of bulls. I had never taken training from a professional who really knew what he was doing, and I wanted to learn another way to ride and train a horse. The opportunity came when I met Craig a few years ago through Ty Murray. We were working cows, and Craig showed up. Ty suggested going to one of Craig"s clinics, and I thought it might be fun to go and see what he had to offer." read more....
Mickey Owens, Manor, Texas - President of the Texas Mounted Shooters Club and a many-time champion in the event.
"I took a notion in my later years to get back into horses. About ten years ago, I sat down with Western Horseman magazine and ordered a video from probably every trainer in the magazine. I remember putting Craig Cameron"s video in, and it was like magic. I knew I had to go meet him, so I took my horse and went to his clinic. That was just the beginning." read more...
R.C. Slocum - Former head football coach Texas A&M University
"I can"t begin to tell you how much I enjoyed the clinic last week. I came away with so much more knowledge of horses and riding; as well as a lot more confidence in my riding. It was also a great experience for my horses. As I mentioned to you, I have seen a lot of coaches in my life and can evaluate coaching. You are one of the best. Not only do you have a great knowledge level from your years of experience with horses but you have a great ability to transmit that knowledge to others. I was very impressed and really appreciate your enthusiasm with our group."¯ read more...
Caren Reaves, M.D.
"Craig, I"m sure you"ve heard it many times before, but your approach and PATIENCE with everyone was amazing and inspiring. It"s so rare to find someone at your level of excellence in any endeavor that is approachable, affable, and downright funny. You made it easy for us to ask questions, laugh at ourselves, and each other for that matter! Again, thank you from the bottom of my heart. One human at a time, you"re making the world a better place for the horse."¯